It was a sad Monday morning in Port Arthur as the body of Pfc. Brandon Keith Bobb was welcomed home for the last time.
After a hero's welcome at the Southeast Texas Regional Airport — complete with a water-made rainbow arch for the taxiing plane flying Bobb home— a procession carried the fallen soldier through the streets of his hometown. He was due to come home on July 26.
Along the route, hundreds of faithful supporters waved American flags to the passing cars carrying Bobb's family to Gabriel Funeral Home.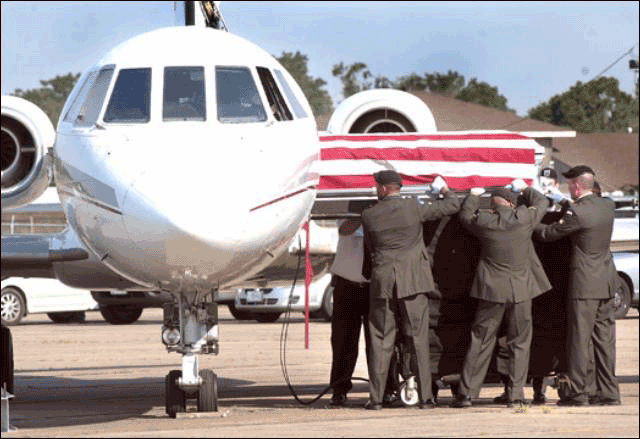 Courtesy of the The Port Arthur News, photographer unknown.
"It's a sad day to see our young men go to basic training, get sent to the front lines and this is how they return home — in caskets," said Mattie Morrow, a friend of the Bobb family. "My heart goes out to the family on this sad, sad day."
Bobb's uncle, Joseph "Joe" Bobb, took the news of his nephew's death hard.
"I had to sit down," he said of receiving the tragic news. "His mother is my baby sister and all my life I've done things to protect her. I could be a thousand miles away and if she needed me, I'd be right there."
Bobb's uncle said the large, close-knit family is competitive in academics and athletics and he was not keen on the idea of the young man going into the military.
"I didn't like the idea at the time," he said. "But he manned up and did what he was going to do and I support him."
Brandon Bobb was a typical teenager who pretty much followed in his family's footsteps in athletics and academics. Many family members earned scholarships to various colleges in the U.S., which is something that pushed the young man towards the straight and narrow without a lot of heavy handedness, Joe Bobb said.
A straight and narrow, respectful young man is how many remember Brandon Bobb and say he got those traits from his well-known family.
"The family would give you their last, that's just how they are," said Wesley Johnson. "It's just so sad because he was so young. It's good to see a young man serve our country and he gave his life trying to protect all of us."
Whether a Port Arthur resident or a stranger to the Bobb family, the death of the American hero crossed all barriers and touched people across the area.
Edited from an article written by Amy Moore and Mary Meaux of the The Port Arthur News.