The 2&1/2 Ton Truck known throughout the military as the "Deuce and a Half" served many very important tasks for the Battalion. It's primary task was transporting personnel and when the bench seats were folded down, supplies and cargo, and materials for field operations.
Before 1941 Army cargo trucks came in numerous platforms with a lack of interchangeable parts. To eliminate the problem the Army started a consolidation process limiting their trucks to 1/2, 1&1/2, 2&1/2, 4, and 7&1/2 ton platforms. The earliest reference to the 2&1/2 ton platform as the standard cargo and personnel carrier was from 1941. The first models came with a stamped steel cab which was later changed to an open cab with canvas cover. The "Deuce and a Half" became the most popular and famous truck platform of World War II. Over 800,000 were build during the war.
| | |
| --- | --- |
| 1966 ~ 1972 | The Vietnam War |
When the Battalion arrived in Vietnam in October 1966 it was authorized by TO&E, ten 2&1/2 ton trucks.
It was especially useful in the Battalion Tactical Area Of Responsibility (TAOR) to transport personnel and materials needed for large scale village cordon and search operations and assist Civic Action Programs (CAPS).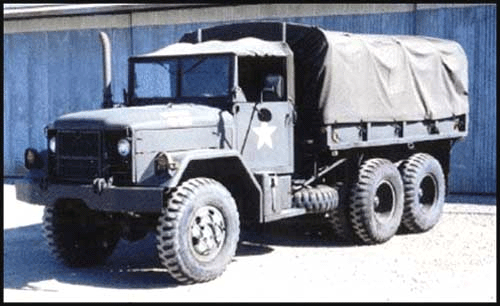 2 & 1/2 ton truck with rag top.