| | | |
| --- | --- | --- |
| | This Page Last Updated 7 July 2015 | |
The Battalions CHARLIE Company and the 813th MP Company were the first military police companies to be awarded the "Presidential (at that time called the "Distinguished") Unit Citation for their participation in the Papuan Campaign," in June 1943.

If you notice any errors or omissions, can provide any missing units, General Orders, summaries, information, or photographs of the presentation ceremonies for any of these awards, decorations and campaigns, or would just like to offer a comment, please notify the History Project Manager via the Email Link provided above.
Most of the honors, awards, and campaigns listed for the 720th Military Police Battalion and its organic units have been verified by official military archival records (issuing authority and orders numbers listed), however, some have yet to be verified through official documentation and their status are so noted by an asterisk or notation - Citation Needed. For those yet to be verified, the original information was obtained from interviews with former Battalion veterans, unofficial units histories, or period press releases.
If you served with any of the units listed on this page during the time periods specified for the campaigns or unit decorations, and they do not appear on you military records of service, feel free to download those accessible via PDF or contact the History Project Manager for copies or information on those that are not.
Battalion and individual Company awards and honors are displayed during formal military ceremonies on the
The Reunion Association is currently conducting a program during which we are asking for donations to assist us in obtaining each and every officially authorized streamer for our own Battalion (Vietnam) Colors and the Unit Guidon's of the organic companies. The Colors and the Guidon's with their attached decorations are displayed at each Reunion to honor those Soldiers Of The Gauntlet who were taken from our ranks in the line of duty, war and humanitarian deployments throughout the world, as well as to recognize those who have served honorably in the past, and those who currently fill our ranks.
The If you would like to make a donation or require additional information, please use this link to
The Streamer Project
Remember, thousands of Veterans have earned medals for bravery every day. A few are even awarded.
The Decorations and Campaigns show on this page are specific to Headquarters & Headquarters Company/Detachment Battalion Colors. Joint and separate decorations and awards for each of the Battalion's Companies Guidon's are listed in the Index below.
The joint Army/Navy Phonetic (radio) Alphabet used to identify the names of the battalion's letter companies: Company A – Able, Company B – Baker, Company C – Charlie, and Company D – Dog, was first developed in 1941, and continued until 1956 when replaced with the International Radiotelephony Spelling Alphabet (ICAO or NATO phonetic alphabet). It was at this time that three of the letter company names, with the exception of Company C – Charlie, changed. Company A was now called Alpha, Company B – Bravo, and Company D – Delta.

U.S. Army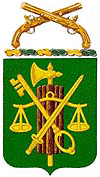 MP Corps